Are you a government agency looking to comply with the e-invoicing mandate? Click here to learn more.
What is e-invoicing?
E-invoicing enables organisations to send and receive invoices electronically, directly to their software. It removes the need for unnecessary data entry and inaccurate OCR scanning.
E-invoicing in Australia is provided through a network of interoperable Access Points, like MessageXchange, conforming to the PEPPOL standard that has been adopted around the world.
E-invoicing happens through a four-corner model, where corners one and four are the supplier and customer, and corners two and three are Access Points. Access Points connect to each other to exchange e-invoices. You can think of it like a telephone network – your phone and your friend's phone are corners one and four, and your network provider (like Telstra, Optus or Vodafone) are corners two and three.
Check out our An introduction to e-invoicing whitepaper to learn more.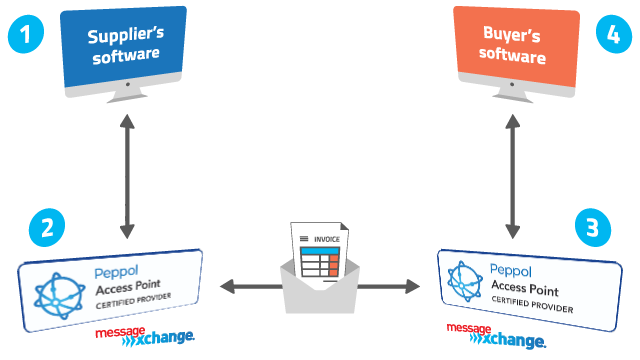 What are the benefits of e-invoicing?
  Cost savings
Studies have found that it costs $30.87 to process a paper invoice, $27.67 a PDF invoice, and only $9.18 to process an e-invoice.
 Faster invoice payments
The average e-invoice is processed in 5 days (compared with 23 days for a regular invoice). With a fully automated process, get paid much faster and increase your cash flow.
 Less time and errors
The e-invoicing process removes a lot of manual data entry. It's a fully-automated process, so you can cut out the time and errors from manually entering invoices. Using our business process management engine, you can automate what used to be a manual process of matching invoices to orders, checking prices and more.
  Automation
Automate the process of sending and receiving invoices. With our business process management engine, you can even automate other processes like two- or three-way matching, approvals, checks and more.
Do you use MYOB AccountRight?
Get setup for e-invoicing in just minutes. Send invoices directly from MYOB to your customers' software. And receive bills directly into your In Tray. Nothing technical, just register and run.
Hello faster payments and less data entry!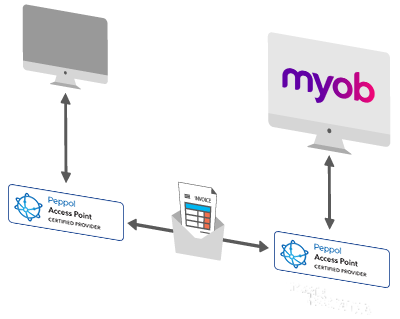 Case Study

"The focus for NZIR was to pay invoices early to help suppliers' cash flow and to give them a seamless experience… [Their] e-invoicing solution went live in less than four weeks from partnering with MessageXchange."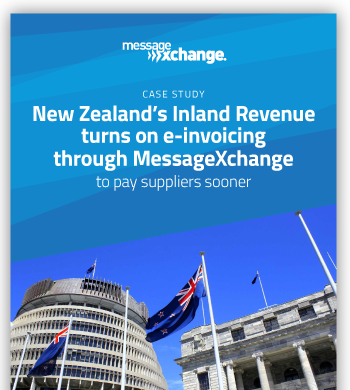 Sign up to get the latest e-invoicing updates!
Stay up-to-date with industry news, useful blogs and whitepapers, expert tips and more.
Looking for more information?
Request a call back and we'll be in touch within a business day.