NEWS: We're the first Peppol-certified e-invoicing Access Point service provider in Australia and New Zealand. Click here to read more.
What is e-invoicing?
E-invoicing enables organisations to send and receive invoices electronically, directly to their software. It removes the need for unnecessary data entry and inaccurate OCR scanning.
E-invoicing in Australia is provided through a network of interoperable Access Points, like MessageXchange, conforming to the PEPPOL standard that has been adopted around the world.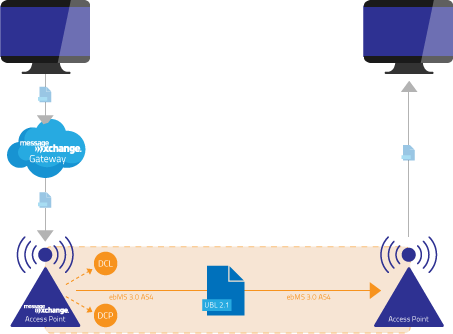 Remove manual data entry and document scanning
Sending documents via MessageXchange removes the need for error-prone data entry and document scanning. The exact input data is mapped to the destination format, removing the risk of misinterpretation or human error.
Meet standards without hassle
Your e-invoicing gateway maps your software's file to the PEPPOL standard. As your Access Point, we send the file through the e-invoicing network, to be delivered to the recipient. All that's needed is the connection between your application and your MessageXchange gateway; we'll handle the rest!
Go with a trusted provider
MessageXchange has been closely involved in the development of e-invoicing in Australia and was a first adopter of the standard. We exchange millions of invoices each year and are trusted by some of the largest names in Australian business.
Maximum security for peace of mind
We take security seriously at MessageXchange. With an ISO 27001 accreditation in information security management, our processes are designed to protect and maintain the privacy of your data. Our customers include organisations in the finance and government sectors, which required some of the most demanding security controls. As a result, all MessageXchange customers benefit from our expertise and reap the benefits of a robust and dependable platform.
Calculate the benefits of eInvoicing
Download our 'how to build a business case' whitepaper.
By submitting your details, you acknowledge that we may provide you with information as outlined in our Privacy Policy. You can opt out of these emails at any time.
Technical information
View the standards, protocols and file types supported by MessageXchange, gateway security and more.
Looking for a free e-invoicing portal?

Check out our partner, Colladium. Perfect for low-volume users, it's free to use and complies with the e-invoicing standards!
Looking for more information?
Request a call back and we'll be in touch within a business day.