Before migrating to a new ERP system, The Good Guys came to us to implement an EDI solution to connect with their suppliers.
Find out what we implemented and the results.
By submitting your details, you acknowledge that we may provide you with information as outlined in our Privacy Policy. You can opt out of these emails at any time.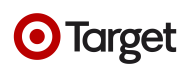 Target approached us looking for a cloud solution that was scalable, configurable, secure and would streamline their processes.
Read how we connected their ERP system with their trading partners around the world and the results they saw.
By submitting your details, you acknowledge that we may provide you with information as outlined in our Privacy Policy. You can opt out of these emails at any time.