NSW Department of Customer Service implements e‑invoicing to provide faster payments, a seamless experience for suppliers and an automated procure‑to‑pay process
Once the NSW Government introduced its policy for faster payments, which included a five days payment terms for SME suppliers, the Department of Customer Service (DCS) decided to get its wheels in motion, taking a leadership role in e‑invoicing in Australia.
DCS began the search for chose an Access Point. But it would become more than an Access Point, it will be a state digital asset, used for multiple use cases throughout the whole of the NSW government. They chose MessageXchange solution based on its:
system capability
business support
exception management
workflow management
ease of use.
Find out more in this case study.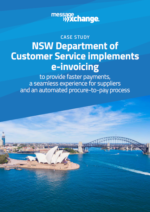 Download this case study now
By submitting your details, you acknowledge that we may provide you with information as outlined in our Privacy Policy.
You can opt out of these emails at any time.