Send and receive invoices electronically, directly to and from your software. Say goodbye to unnecessary data entry and inaccurate OCR scanning. And by receiving them electronically, you'll receive them in as little as seconds of them being sent so you can pay them on time, every time.
Did you know we're the first Peppol Access Point provider to be certified in Australia and New Zealand? Click here to read more.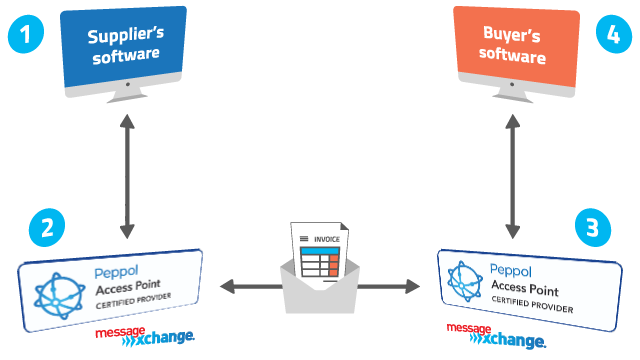 Receive invoices seconds after they're sent, so you can pay suppliers on time
With the Government's promise to pay e-invoices in five days, now's the time to move to e-invoicing. Receive invoices directly to your software once your supplier sends it. It appears in your software, after going through an automation or matching process if you require it, so it can be paid on time.
Automate your accounts payable process
Our business process management engine can be setup to perform checks and matches along the way to verify the validity and approval of invoices. Setup processes to check the corresponding purchase order, the supplier, match the invoice amount and more.
Say goodbye to data entry errors
With e-invoicing, you'll never have to enter an accounts payable invoice again. Suppliers enter the invoice into their own software and it almost magically appears in your software without another human touching it.
Did you know:
E-invoices cost 70% less than a paper invoice, and 67% less than a PDF invoice.
The Commonwealth Government has committed to paying e-invoices in five days (see more here).
You can get e-invoicing enabled in as little as a day!
Case Study

"The focus for NZIR was to pay invoices early to help suppliers' cash flow and to give them a seamless experience… [Their] e-invoicing solution went live in less than four weeks from partnering with MessageXchange."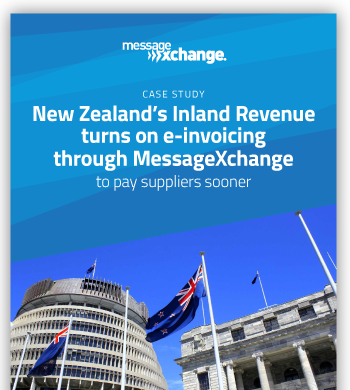 1






Other connectivity protocols












A message to an sFTP folder


Business process management


Gateway self-support login

Onboarding trading partners
Your trading partners have free use of Colladium to send/receive e-invoices


1 API for E-invoicing Connect is available for suppliers only. MessageXchange will provide our API specifications to use.

Select a product and complete your application form

Connect to MessageXchange and test connectivity and messaging Become your own Access Point service provider using MessageXchange technology
For departments looking to be the Access Point for other agencies, we've got a product for you. We can host your own Access Point instance where you can manage everything from connectivity to onboarding, mapping, monitoring, support and more.

Onboard your suppliers to Colladium. It's free to use!
Perfect for low-volume users, it's free to use and complies with the e-invoicing standards! Ask our Account Managers for more information.
Looking for more information?
Request a call back and we'll be in touch within a business day.