eInvoicing enables organisations to send and receive invoices electronically, directly to their software. It removes the need for unnecessary data entry and inaccurate OCR scanning.
eInvoicing in Australia is provided through a network of interoperable Access Points, like MessageXchange, conforming to the Peppol standard that has been adopted around the world.
We are the first Peppol-certified Access Point provider in Australia and New Zealand.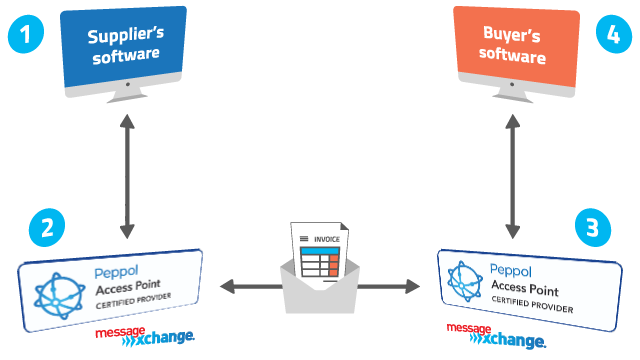 Get your customers onboard to eInvoicing quickly and easily
With thousands of customers, we know how to onboard quickly and easily. Get up and running with eInvoicing in as little as a couple of days so your customers can start reaping the rewards.
Create a seamless eInvoicing experience for your customers
Our service means no change to your customers' invoicing process. They can still create invoices in their software as they do today, but the invoice can be sent through the Peppol eInvoicing network to their recipient. There's no need to login to a different system, duplicate processes or change their current processes.
Customise your eInvoicing solution to suit you and your customers
We offer a range of services to suit you. We provide mapping services, onboarding, portals and more that can be designed for you.
Did you know:
eInvoices cost 70% less than a paper invoice, and 67% less than a PDF invoice.
The Australian Government have committed to paying eInvoices in five days.
You can get eInvoicing enabled in as little as a day!

1






Other connectivity protocols












A message to an sFTP folder


Business process management


Gateway self-support login

Onboarding trading partners
Your trading partners have free use of Colladium to send/receive eInvoices


1 API for eInvoicing Connect is available for suppliers only. MessageXchange will provide our API specifications to use.

Select a product and complete your application form

Connect to MessageXchange and test connectivity and messaging



View our free webinar


Getting ready for eInvoicing: Software providers

Join David Moss, our eInvoicing expert for a free interactive webinar where he'll cover your Access Point options, incorporating eInvoicing into your product, testing and more.
Looking for more information?
Request a call back and we'll be in touch within a business day.