Some of the main issues businesses face include too many manual processes, high supply chain costs and errors in supply chain documents. Electronic data interchange (EDI) has helped a lot of businesses overcome these issues through process automation. But now a new technology called e-invoicing is gaining popularity. We've compare the two and show when each should be used.

Comparing e-invoicing and EDI
Electronic Data Interchange
Invoices
Purchase Order (PO)
Purchases Order Response (PORs)
Purchase Order Acknowledgement (POAs)
Advance Shipping Notice (ASNs)
And more
Four corner model using Access Points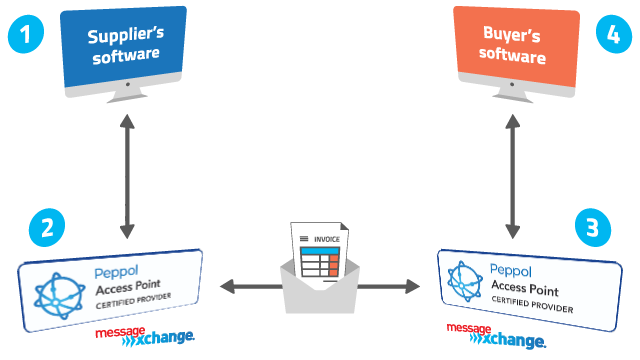 It uses a standardised framework, Peppol
Value Added Network (VAN)
Separate network providers that send EDI messages in the correct format to recipient.
Multiple standards
Common standards include EDIFACT, XML ANSI X12, EANCOM
This is set by the Peppol authority
Access Points must comply with security requirements or can have access revoked.
Security is set according to EDI standard used and each company and VAN's security requirements.
Connection protocols/message file format
Any connection protocol and file format can be used between you and your Access Point
Universal Business Language (UBL) and AS4 is used between Access Points
Any connection protocol and file format – often determined by one party
Which is better for you
EDI
This technology has been around for a long time. As a result, it has become the norm in a few different industries. Some of the main industries include retail, groceries and logistics. Businesses that operate in an industry that EDI is commonly used, should consider using EDI.
EDI can send more message types compared to e-invoicing. For businesses looking to take their digital technology further and automate their entire supply chain, EDI could also be the choice for you.
E-invoicing
E-invoicing is great for businesses looking for a quick way to automate their invoicing processes. If you send and receive a lot of invoices, and aren't really concerned about other data in the procurement chain, e-invoicing could be the right choice for you.
E-invoicing is also useful for businesses that work with government agencies. As more government agencies move to e-invoicing it's likely they'll onboard their suppliers too. You can also benefit from 5 day payments for contracts less than $1 million from government agencies that are e-invoicing enabled.
Want to learn more about these two technologies? Request a call with one of our e-invoicing or EDI experts today.