Onboarding your suppliers to EDI is an exciting time, but it can be challenging, particularly when it comes to EDI message testing. If you've undertaken an onboarding exercise before, you'll know that suppliers rarely get it right the first time around. Testing EDI messages often involves lots of effort from your team to process messages and communicate back to the supplier after each test. We've onboarded thousands of companies to EDI and our team have seen first-hand how resource-intensive it is.
The good news is we now have a message compliance testing (MCT) tool. It simplifies the testing and compliance process to get you up and running with your suppliers faster. Your team will never have to let a supplier know that they've missed out a field again. Just think of the time and cost it could save!
What is message compliance testing (MCT)?
MCT is a service that allows companies onboarding to EDI to test their messages automatically before moving to a production EDI environment. It helps your suppliers to start trading via EDI as efficiently and effectively as possible.
How does it work?
Traditional EDI testing is a manual and resource-intensive exercise. Whether you do it yourself or outsource it, it usually involves sending suppliers all your EDI documentation (like your MIGs) and then testing each message type with each supplier to ensure they adhere to your requirements. This involves a lot of back-and-forth communication which is time consuming for everyone.
Define and setup your process
Our MCT tool lets you define a step-by-step process for your trading partners to test against your EDI requirements. The tool can replicate the different day to day business scenarios that you experience in your supply chain and then replicate them in your testing. For example, this could be:
Receive a purchase order
Send back a corresponding purchase order response accepting the order in full
Send back a corresponding purchase order response rejecting the order in full
Send back a corresponding purchase order response with a different quantity for one line
Send back a corresponding despatch advice
Send back a corresponding invoice
The syntax and business rules will be setup in the background for your suppliers' messages to be validated against. For example, if you need the date in a particular format or a POR to include the reduced quantity. The process is designed to meet your business requirements and can be as simple or complex as you need.
Invite your suppliers
Once you've invited your suppliers to join, they can start the certification process.
Start the certification
They'll be taken through your process where they can generate messages that they would receive (like a purchase order) and confirm that it can be processed on their side. Then they'll be prompted to upload their messages to be validated against your syntax and business rules. Unlike manual EDI testing, our software will identify each error and feed the information back to your supplier in plain English. They can fix up the errors and try again.
Watch suppliers' progress
Our reporting lets you monitor where each supplier is in the process and will let you know if anything needs actioning on your side.
Move to production with confidence
Once the whole flow is completed, you can move them to production with your mind at ease that their messages, business processes and rules will be compliant.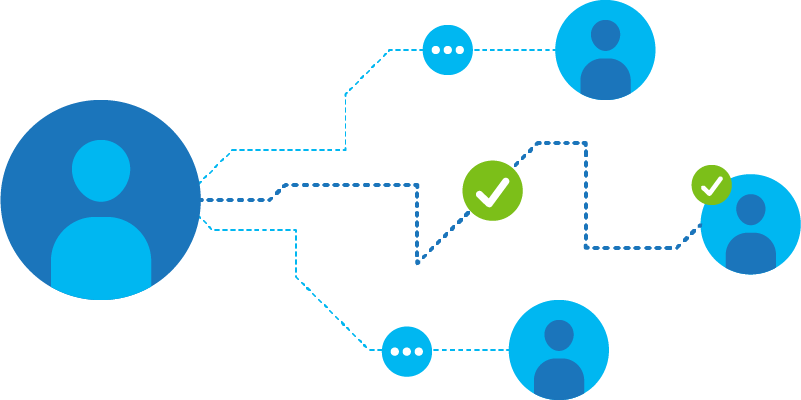 What are the benefits?
For those onboarding large communities to EDI:
Reduce costs and less internal resources
Automating your testing reduces the need for internal or outsourced resources.
Easily monitor progress
Our dashboards and reports make it easy for you to track the progress of your community.
Increase testing capacity
You're not limited by how quickly your team can support your partners. All your suppliers can test at once.
Faster problem resolution
Your suppliers can find issues in messages and fix them straight away.
No additional software required
Our MCT service is accessible through a browser, anywhere with internet.
24/7 access
It's online and can be accessed at any time.
For those being onboarded to EDI:
Move to production faster
You don't have to wait for anyone to get back to you with your results – see them on screen as you go. Fix the issues up straight away and try again. Once you've completed the testing, you're ready to move to production.
Troubleshoot errors straight away
Errors are shown quickly once a message is sent – no need for back and forth communication.
Test whenever it suits you
It's online, so all you need is a browser.
How do you get started?
We've made the process as easy as possible.
Get in touch with us.
We'll document your messages, workflow and business rules.
We'll go away and configure it.
You're ready to roll it out to your suppliers.
We can configure your setup to any file format (including UN/EDIFACT D01B, UN/EDIFACT D96A, ANSI ASC X12, cXML, GS1 EDI and more) and business rules; it's completely customisable.
Click here to find out more. Or if you're interested in learning more about our MCT tool, request a call back from one of our team.