Meet standards without hassle
Our eInvoicing Gateway maps your application's files to the industry standard, UBL 2.1. As your Access Point, we send the UBL 2.1 file to the eInvoicing network via ebMS 3.0 AS4, to be delivered to the recipient. All that's needed is the connection between your application and the Gateway; we'll handle the rest!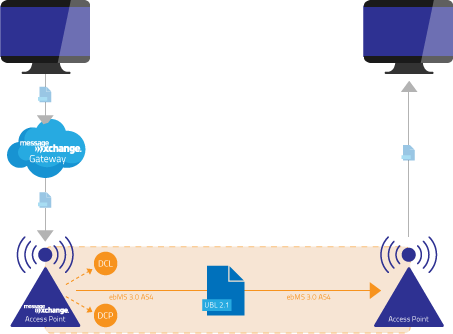 Remove manual data entry and document scanning
Sending documents via MessageXchange removes the need for error-prone data entry and document scanning. The exact input data is mapped to the destination format, removing the risk of misinterpretation or human error.
Go with a trusted provider
MessageXchange has been closely involved in the development of the eInvoicing standards by the Digital Business Council. With the standards about to be rolled out, several MessageXchange eInvoicing pilots are underway.
MessageXchange has extensive experience in mapping and integration, particularly for SuperStream and Standard Business Reporting, as well as the supply chain, logistics, manufacturing and financial services industries.
Choose a flexible service
Your MessageXchange Gateway is fully configurable and can support all your B2B requirements, not just eInvoicing. We support a wide range of standards in the one gateway, including SuperStream, Standards Business Reporting and electronic data interchange (EDI).
Trust a reliable gateway
Our eInvoicing Gateway is hosted in Australia and comes with a guaranteed service level and proven reliability.
Calculate the benefits of eInvoicing
Download our 'how to build a business case' whitepaper.
By submitting your details, you acknowledge that we may provide you with information as outlined in our Privacy Policy. You can opt out of these emails at any time.
Technical information
View the standards, protocols and file types supported by MessageXchange, gateway security and more.
Looking for a free eInvoicing portal?

Check out our partner, Colladium. Perfect for low-volume users, it's free to use and complies with the eInvoicing standards!
Looking for more information?
Request a call back and we'll be in touch within a business day.