Getting bogged down in manual processes can really hurt an accounts receivables team. After all, invoices that take a long time to process cost a business and make for an underperforming team. Thankfully there's technology out there to deal with this. eInvoicing automates the exchange of invoices directly from your software to your customers'.
eInvoicing works like this: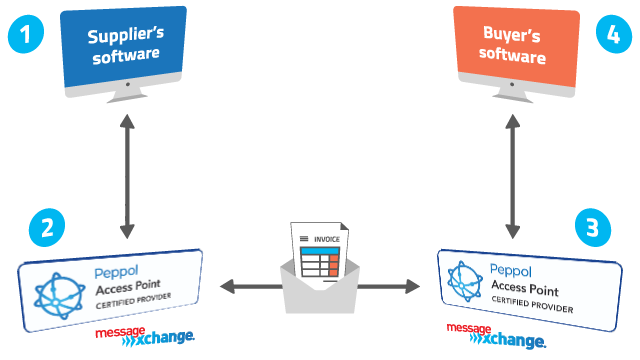 You find your customer's purchase order (PO) in your software and create an invoice from it. Your team then sends the invoice electronically from your software. The invoice is sent, almost magically, through the Peppol network directly to your customer's software. They don't need to scan it, type it in or anything.
Your customer's software may then be able to match the received invoice against the PO for payment authorisation.
Here are some of the benefits of using eInvoicing in your accounts receivable team.

Get paid faster
If you're in accounts receivables, you want to send out invoices and get paid as quickly as possible. That's where eInvoicing comes in. Studies have shown eInvoicing can reduce processing cycle time by up to 65%. Some government agencies even promise to pay their suppliers' eInvoices in just five days.
Reduce disputes
The automation of eInvoicing also makes it very unlikely for any errors to show up on invoices when your customers get them into their software. This reduces the chance of your customers ringing you up asking about invoices with the wrong quantities or costs… yikes!
Get more visibility
Typically when you email an invoice, you only know it's approved once you receive the payment into your bank account. Or sometimes your customers might be nice enough to send you a remittance advice. The eInvoicing model supports eInvoice responses, which can tell you when an invoice is acknowledged, approved, paid, rejected and more. It can even tell you why it's been rejected.
Reduce invoice processing costs
eInvoicing digitises the whole invoicing process so it's one less thing you need a printer for. Plus, an added bonus of eInvoicing is less need for archiving invoices, which reduces costs by up to 32%. Overall, studies have shown it costs $30.87 to process a paper invoice, $27.67 a PDF invoice, and only $9.18 to process an eInvoice.
Interested in learning more about eInvoicing for your accounts receivable team? Ask our experts by getting in touch below.
Request a call
Chat with one of our experts
Just fill out your details below and we'll be in touch within one business day.