Send eInvoices with minimal disruption
To comply with the eInvoicing standards, all you need is a connection to our Access Point and we'll do the rest.
We can convert you application's file to the eInvoicing standard, UBL 2.1. The MessageXchange Access Point will retrieve the recipient's digital address from the Digital Capability Lookup (DCL) and check they can receive the document, in the Digital Capability Publisher (DCP). We'll then send it to their digital address, or Access Point, for them to receive.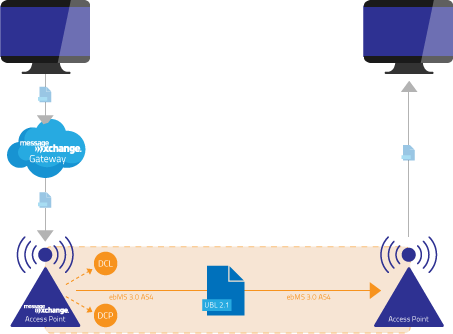 Receive eInvoices directly into your existing application
The MessageXchange Access Point can also send eInvoices received through the network directly to your ERP or accounting package via your MessageXchange Gateway. There's no need for manual data entry or scanning.
Go with a trusted provider
MessageXchange has been closely involved in the development of the eInvoicing standards by the Digital Business Council. With the standards about to be rolled out, several MessageXchange eInvoicing pilots are underway.
MessageXchange has extensive experience in mapping and integration, particularly for SuperStream and Standard Business Reporting, as well as the supply chain, logistics, manufacturing and financial services industries.
Trust a reliable gateway
Our eInvoicing Gateway is hosted in Australia and comes with a guaranteed service level and proven reliability.
Looking for a free eInvoicing portal?

Check out our partner, Colladium. It's free to use and complies with the eInvoicing standards!