Our top tips to achieve onboarding success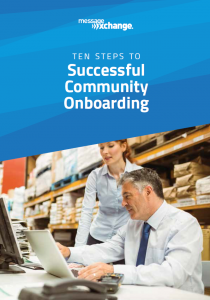 Onboarding your partners can be a daunting task in any EDI project. And we've seen it all when it comes to community onboarding.
It is important to get your onboarding approach right to maximise your return on investment.
This whitepaper provides our ten top tips for successful EDI community onboarding from our 20+ years of experience.
If you're responsible for starting your organisation's EDI journey, or getting your business partners onboarded, this document is for you.
We go through:
Defining your objectives
Getting prepared at your end
Segmenting your suppliers
Developing a clear communication plan for your suppliers
Developing a testing process
And more.
Download this whitepaper now
By submitting your details, you acknowledge that we may provide you with information as outlined in our Privacy Policy.
You can opt out of these emails at any time.